Back in June, I stated that Hecla Mining (HL) would likely underperform as I just didn't see the same appreciation potential and earnings leverage over the next year or two compared to other stocks in this sector. The reasons for my negative thesis were as follows:
HL had held up significantly better than most gold and silver stocks since the August 2016 peak in the sector – as the shares were down about 20% compared to some of its peers which were down by 40-50%.
Most investors didn't understand the declining cash flow situation at San Sebastian. Hecla had been knocking it out of the park because of this mine, but over the next 2-4 quarters, the company would likely start to see San Sebastian's OCF and FCF trail off even further.
The slow pace of debt reduction would also weigh more on the stock if cash flow declines.
HL was basically being priced for perfection even though San Sebastian had likely peaked and Hecla's balance sheet was still highly levered. The valuation simply wasn't in line with the fundamentals (or the rest of the sector for that matter).
Since then the shares have declined by 26.3% compared to just a slight loss in the HUI and GDXJ during that time. Not all of this decline is because of San Sebastian – as the ongoing strike at the company's Lucky Friday mine in Idaho is also impacting the shares (to a degree). The recent dive, though, did occur after earnings were released and seemed unrelated to the continuing labor issue at Lucky Friday.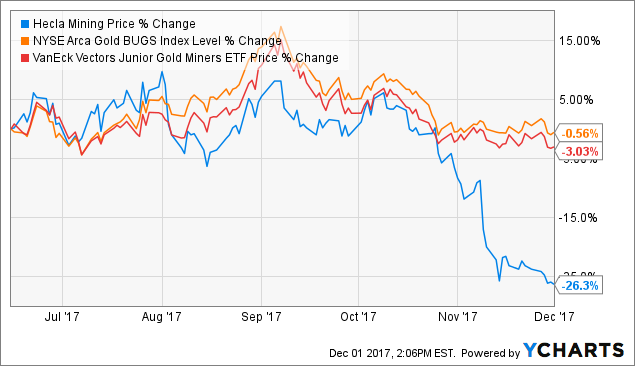 The question is are the shares now a buy given: 1. the almost 30% sell-off over the last 6 months, 2. its underperformance compared to the rest of the sector, and 3. the stock is now at strong support? As you can tell from the title of the article, the answer is "no," as I still favor other producers at this point. Hecla could pop if the strike at Lucky Friday is resolved, but there are still underlying issues to deal with.
San Sebastian's Decline Only Just Starting
My main concern about Hecla has centered around their San Sebastian mine in Mexico – which has been a highly profitable operation and is the second best cash flow producing asset for the company (even though it has only accounted for ~15% of the total revenue).
Revenue at San Sebastian in the first quarter of this year was $21.972 million, while income from the operation was $13.454 million. It generated basically the same amount of profits as the company's Greens Creek mine – which has almost 3x the revenue and has been the money maker for Hecla for years now.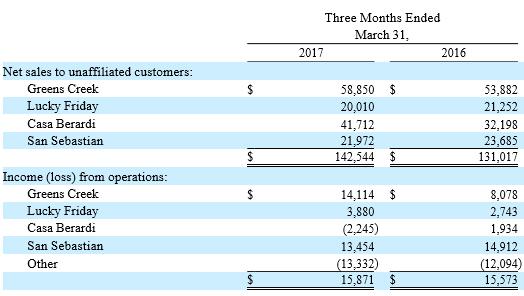 (Source: Hecla Mining)
However, I have been warning about how grade, production, and cash flow were all going to be declining at San Sebastian, as the mine just didn't have the reserves to keep running at the rate it did last year.
The decline has already started, as San Sebastian had $92 million in free cash flow in 2016, and in the first half of 2017, it only generated $21 million in free cash flow. The issue? All of the easy gold and silver has been mined (i.e. the very high-grade open pit ore right below surface). Hecla is now going underground in 2018 and will be mining grade not nearly as robust. Even though they still expect to generate positive free cash flow next year at San Sebastian, it will likely be much lower than current levels.
Q3 revenue and profits at the mine only declined slightly year over year, so it might not seem like much of a dropoff is occurring. However, there were far more silver and gold ounces sold in the quarter than produced ($2.5-$3.0 million worth) as there was some unsold inventory that carried over from Q2. If you look at the results from the first three quarters of the year, you can see that revenue and profits are sharply lower compared to 2016 figures. The most important data below is the ore grade – more specifically the huge decline this year (23.71 ounces per ton silver in 2017 vs. 33.70 oz/t in 2016, and 0.18 oz/t gold in 2017 vs. 0.27 oz/t last year).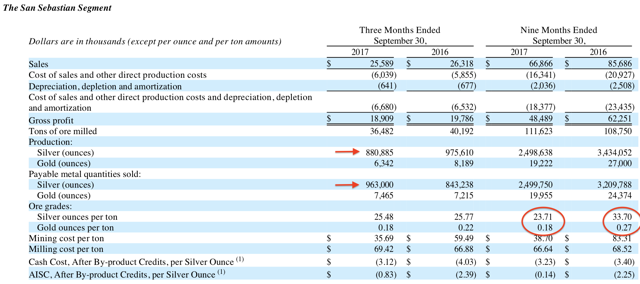 (Source: Hecla Mining)
Below was the reserve and resource at San Sebastian at the end of 2016 – which shows how this operation isn't going to see a return to those grades anytime soon. In fact, mined grade is going to decline much further. As I mentioned above, I expect OCF and FCF at San Sebastian to trail off over the next 2-4 quarters. The worst is still yet to come.
| | | | | |
| --- | --- | --- | --- | --- |
| | Silver | Gold | Silver | Gold |
| | (oz/ton) | (oz/ton) | (000 oz) | (000 oz) |
| Proven and Probable Reserves | 17.2 | 0.11 | 5,600 | 37 |
| M&I Resources | 5.4 | 0.07 | 8,285 | 114 |
| Inferred Resources | 5.5 | 0.03 | 15,413 | 89 |
Even the company stated in the last conference call:
"At San Sebastian, we don't have the incredible grade that we had with the Francine pit, but it's still very good cyanide circuit grade."
I agree, it is good grade, but the grade of the ore that remains is still only a fraction of the bonanza material that was being mined last year. As a result, cash flow will also be similarly impacted.
No Signs Of Major Exploration Success
As the company stated in the latest 10Q:
We have generated positive cash flows at San Sebastian since the start of production there, and we currently believe that will continue until early or mid-2020.
Hecla doesn't need significant exploration success to keep this mine operating past 2020, and it's likely that they will find additional "profitable" gold and silver ounces to mine at San Sebastian. However, to keep the mine running at the same levels as 2016, or even close to this year's levels for that matter, will require much success via the drill bit. Which is why I have been paying close attention to the exploration results out of Hecla.
The latest update came in early November, but I didn't see anything in the assay results that really stood out.
Hecla was in-fill drilling the west portion of the Middle Vein, and they also did some step-out drilling toward a "new zone of high-grade mineralization that is similar to the mineralization in the previously discovered Hugh Zone on the Francine Vein." But assay results showed that these were very narrow width veins – the holes shown on the map below are just 1.7 to 5.4 feet (or roughly 0.5 to 1.5 meters). The gold and silver grade were also still well below the current reserve grade in 2 out of the 3 holes shown below. Having said that, these assay results did contain copper, lead, and zinc, which helps improve the economics of extracting these ounces. Overall though, not much high-value per ton ore is being discovered in the middle vein.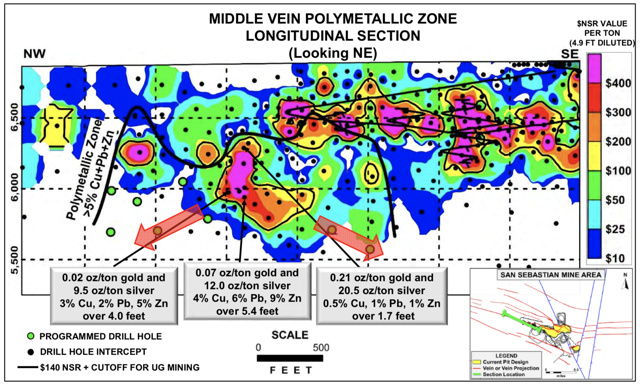 (Source: Hecla Mining)
On the Francine Vein, there was a new discovery 600 feet to the west of the Hugh Zone. Unfortunately, it's the same problem here as the widths were only 1-2 meters. These are also polymetallic veins like the ones highlighted above. Silver grade was very good in a few holes, but the presence of gold wasn't nearly as strong. There was a high % of base metals – which is one positive aspect – but more data is needed to determine how much of an impact these base metals will have. Another drill hole 2,500 feet to the west of the Hugh Zone also intersected a polymetallic vein (although with lower contained ore grade). This vein is open laterally in both directions and there is still some exploration drilling to be conducted in these gaps.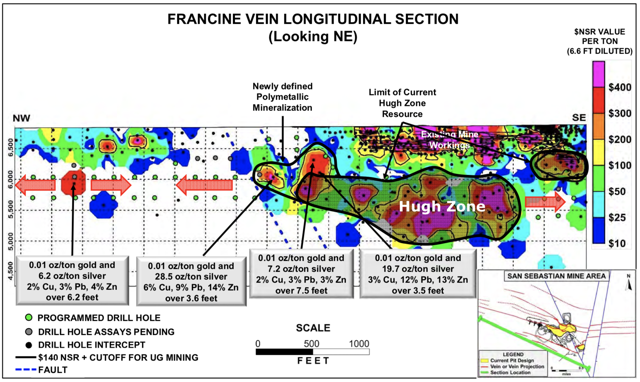 (Source: Hecla Mining)
What's clear is San Sebastian does have pockets of high-grade ore deeper underground. But overall, I'm not seeing anything too continuous yet, and again, these are very narrow width veins (which means dilution could be an issue).
Unless Hecla has significant, near-term exploration success at San Sebastian, the mine will generate less and less cash flow going forward. In other words, this isn't just a short-term problem for the company as it's likely going to get worse. Eventually, the mined grade will bottom out but I don't expect that to happen until sometime next year.
Still No Improvement In Net Debt
One other issue is the balance sheet of the company. 2016 was a very strong year for Hecla in terms of cash flow, yet they still didn't reduce debt. Now OCF and FCF are on the decline and net debt has been on the rise again. Hecla is one of the few companies in the sector that hasn't drastically improved its financial position over the last few years. This might come back to haunt them unless they execute well at all mines going forward.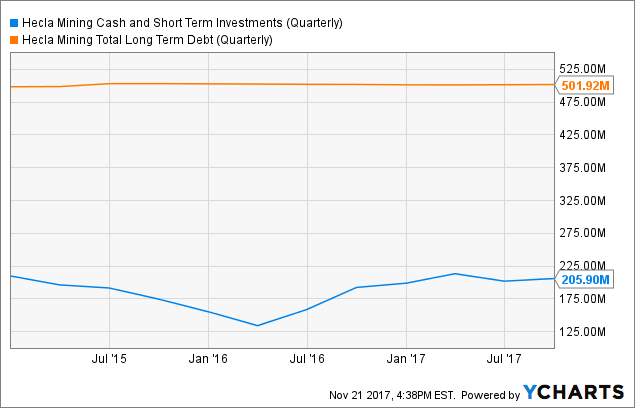 HL Cash and Short Term Investments (Quarterly) data by YCharts
Current Outlook
The good news for Hecla is Greens Creek continues to perform very well, and their Casa Berardi mine in Quebec produced a record 44,141 ounces of gold in Q3 (although costs are still high for this operation). If the strike at Lucky Friday is resolved, it could partially offset the loss of cash flow next year from San Sebastian and provide a boost to the stock.
For now, I'm going to remain on the sidelines as the only thing that can cause this stock to rally over the next several weeks/months is a settlement at Lucky Friday and/or gold and silver take off. If there is no change in status for either of those, then HL might not have bottomed yet. Even if it has hit a low for this correction, I don't believe it will outperform over the next 12-18 months.
Exploration success at San Sebastian could radically alter this outlook.
For now, I still see many better options in the gold and silver mining sector. There are several companies projecting increases in production and cash flow over the next year or two, and many have strong catalysts in place. Hecla still needs to fill this huge hole that San Sebastian is going to be leaving in the "Statement Of Cash Flows".
As a side note, I would like to see HL make a small, strategic acquisition. I feel that the company made a mistake over the last year by not taking advantage of its lofty stock price.
If you would like to read more of my in-depth coverage of the gold sector, you can subscribe to The Gold Edge.
Disclosure: I/we have no positions in any stocks mentioned, and no plans to initiate any positions within the next 72 hours.
I wrote this article myself, and it expresses my own opinions. I am not receiving compensation for it (other than from Seeking Alpha). I have no business relationship with any company whose stock is mentioned in this article.
Related Posts: