General Electric (GE) reported Q1 2018 financial results and, as expected, the financial community's reactions were mixed (see here and here, both were articles from TheStreet.com). The market, however, was pleased – that is, GE shares finished the trading day up almost 4% on the better-than-expected results. The one-day stock performance is great and all, but let's not forget that GE shares are still down by over 16% so far in 2018.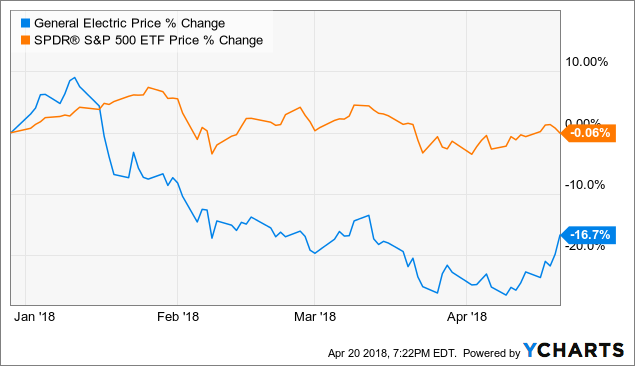 GE's Q1 2018 results were nothing to write home about but, in my opinion, improvements in several key metrics (will discuss below), coupled with the strength shown by the 2 key operating segments (Aviation & Healthcare), were good enough to keep the market happy for at least the time being.
The Q1 2018 Results, Just Good Enough
The industrial conglomerate reported adjusted EPS of $0.16 on revenues of $28.7B. When compared to the same quarter of the prior year, Q1 2018 revenues and adjusted EPS increased by 7% and 14%, respectively.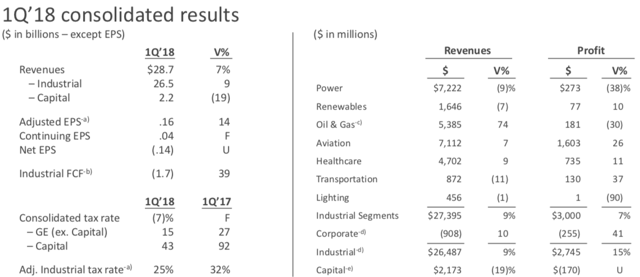 The Aviation and Healthcare units were again the top performers for the quarter but it is also important to note that the consolidated industrial results showed promise (revenue and profit were up 9% and 7%, respectively). But, of course, the pundits are instead only focusing on the company's 'weak' cash flow metrics.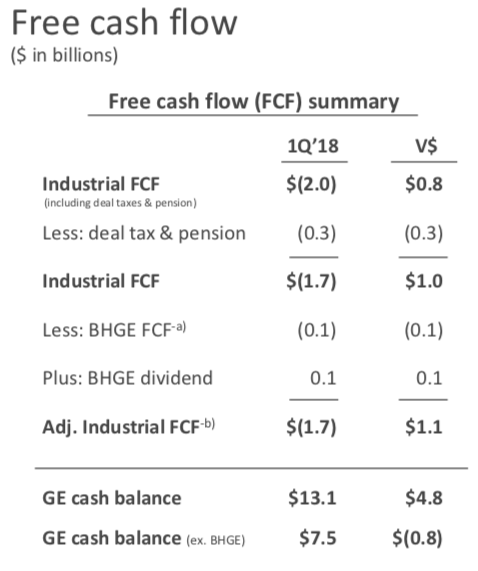 GE's FCF was negative for the quarter on both an adjusted and non-adjusted basis but they were still big improvements from Q1 2017. Unlike the bears, I am impressed with the Q1 2018 FCF metrics and I actually expected worst results for the quarter. Additionally, management talked up the progress that was made and they also re-affirmed the full-year guidance for FCF:
We've got a lot to execute on but the first quarter was a good start to executing on our 2018 plan. There is no change to our framework of $1 to $1.07 earnings per share and $6 [to] 7 billion of free cash flow. We expect earnings pressure in Power will be offset by better Aviation and better Healthcare earnings and lower corporate costs. Renewables, Transportation and Oil & Gas should be about as expected. – Mr. John Flannery, Q1 2018 Conference Call
More importantly, management again stated that there were no plans to cut the dividend – income investors would have ran for the hills if GE cut the dividend again.
At the end of the day, GE's Q1 2018 results were not stellar but they were good enough to buy Mr. Flannery and team some additional time. Remember, it is going to take this company years (not months) to right the ship so, in my opinion, investors should fully expect for GE to report 'mixed' results over the next few quarters. The company still expects to earn $1.00-$1.07 in earnings and $6.00-$7.00B of FCF, while also focusing on streamlining the business and funding its pension, so that alone should make the bulls happy. However, there were additional developments from the earning release that also need to be considered.
Other Developments:
(1) The company mentioned that the Distributed Power unit is officially on the trading block, along with the other units (small Aviation platforms, Current & Lighting, and Transportation) that are already in the process of being disposed of.
(2) There were rumors circulating that the company is in talks to sell its rail business to Wabtec (WAB). Management already hinted at the fact that the rail business could be spun off or sold, so I would not be surprised if a deal for this division was announced in the near future.
(3) The company took an ~$1.5B charge related to its subprime mortgage business. Management disclosed that the charge was related to potential legal settlements for subprime mortgage violations from the pre-Financial Crisis era.
A Positive Business Environment
In "GE: The Good, The Bad And The Ugly", I made the argument that GE's turnaround could largely hinge on global growth and an improving business environment, and I still believe that this is the case. GE has tentacles that reach almost every corner of the global economy so, as you can expect, the industrial conglomerate's businesses will benefit when its customers are doing well. To this point, 17% of the companies in the S&P 500 have already reported Q1 2018 financial results and business prospects are looking promising. According to FactSet, "more companies are reporting actual EPS above estimates (80%) compared to the 5-year average. In aggregate, companies are reporting earnings that are 5.9% above the estimates, which is also above the five-year average. In terms of sales, more companies (72%) are reporting actual sales above estimates compared to the five-year average. In aggregate, companies are reporting sales that are 1.6% above estimates, which is also above the five-year average."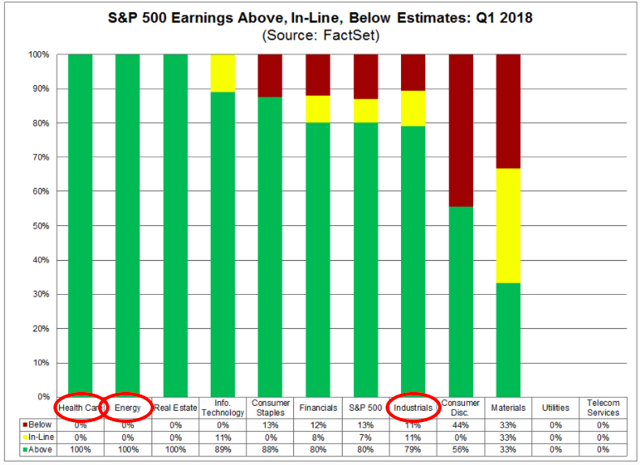 Source: FactSet
In my opinion, 80% of companies reporting better-than-expected earnings (and 72% for sales) is telling us a story about the business environment. GE operates in a lot of industries, obviously, but I highlighted the sectors that are material to this company. As shown, the companies in these sectors are smashing estimates.
Mr. Flannery and team will obviously have to get their own house in order to truly pull GE out of the trenches but I do believe that investors should not overlook the potential benefits of an improving backdrop. In my opinion, a business environment that is firing on all cylinders, coupled with Mr. Flannery streamlining operations and spinning off/selling non-core assets, could turn out to be an additional boost that GE needs to fuel the turnaround.
Valuation
What is the right valuation for a company that cannot seem to get out of its own way? Plus, there are major risks to the story – material pension deficit, Power struggles, cash flow concerns, etc. Therefore, the company definitely does not deserve a multiple in line with the likes of Honeywell (HON) but, in my opinion, 14.5/15x 2018E earnings seems like an attractive valuation.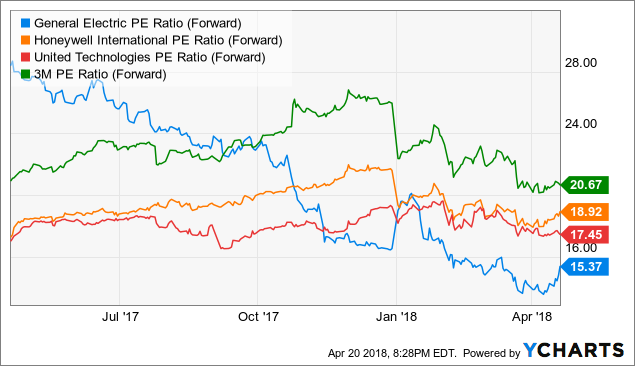 Additionally, management again re-affirmed estimated 2018 earnings so this company may finally be in a position to slowly begin to win over the market. Yes, it will take time but you have to start somewhere, right?
Bottom Line
There was a lot to like about GE's Q1 2018 results but let's not get ahead of ourselves just yet. This company still has plenty of work to do before it will be able to win over the market. However, I do believe that Mr. Flannery has this storied industrial conglomerate heading in the right direction. There are definitely risks to the thesis [cash flow concerns, Power downturn, jet engine fallout (possibly), financial leverage and credit rating], but, in my opinion, GE shares are finally starting to find a bottom.
GE is a risky long-term investment and it is a multi-year turnaround story, but I plan to stay long the stock. How about you?
Author's Note: All images were obtained from General Electric's Q1 2018 Earnings Presentation, unless otherwise noted.
Disclaimer: This article is not a recommendation to buy or sell any stock mentioned. These are only my personal opinions. Every investor must do his/her own due diligence before making any investment decision.
If you found this article to be informative and would like to hear more about this company, or any other company that I analyze, please consider hitting the "Follow" button above.
Disclosure: I am/we are long GE, HON.
I wrote this article myself, and it expresses my own opinions. I am not receiving compensation for it (other than from Seeking Alpha). I have no business relationship with any company whose stock is mentioned in this article.
Related Posts: