On April 16, 2018, Bank of America (NYSE:BAC) reported Q1 2018 results that beat the top and bottom line estimates, but the market was not impressed (the stock is basically flat since earnings were released). BAC shares are trading pretty much in line with the S&P 500 on a YTD basis, but looking back, the stock is outperforming the broader market by a wide margin over the past year.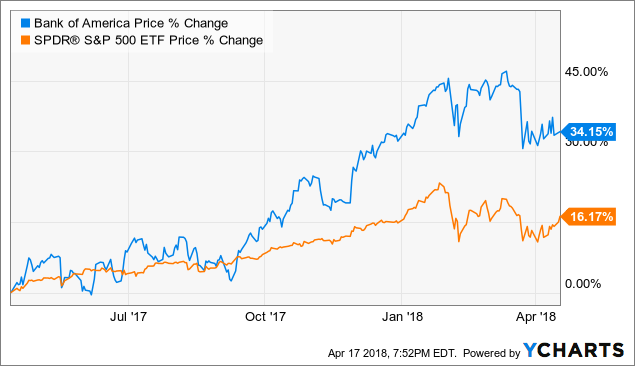 I have written about Bank of America several times since early 2015, and my thoughts about this bank being a great buy-to-hold investment has not changed over the years. After reviewing its Q1 2018 results, I still believe that Bank of America is worthy of investment dollars. Actually, I am even more bullish now than I was when shares were trading in the mid-teens.
The financial community dubbed Bank of America's Q1 2018 earnings, along with those of other large U.S. banks, as weak due to the "one-time" benefit to earnings that was created by the passage of the tax reform bill. I, however, believe that the tax reform bill not only provided a big bump to earnings for the most recent quarter, but it will also positively impact the bank's future growth prospects in a material way.
The Results – A Lot To Like Here
For Q1 2018, Bank of America's total revenue and adjusted EPS increased by 4% and 38%, respectively.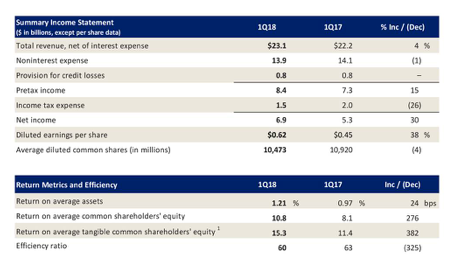 Additionally, the bank experienced significant improvements in several key metrics – return on average assets and efficiency ratio. As I described in a previous article, Bank of America used to be a cut artist (i.e., only focused on cutting expenses), but now, Mr. Brian Moynihan, CEO, has the bank positioned for growth. For example, analysts estimate that Bank of America will growth EPS by ~21% over the next five years (per Finviz).
This bank has many growth drivers (digital, expense management, rising rates, etc.), but it is also important to note that the pieces of the puzzle have already started to fall into place. To this point, its operating results were impressive almost across the board.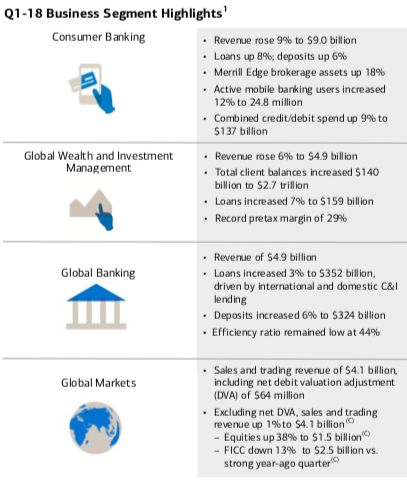 Source: Q1 2018 Earnings Press Release
There was a lot to like about Bank of America's quarterly results (e.g., growth in operating leverage, 300 bps improvement in its efficiency ratio, improving return metrics), so in my opinion, investors should be encouraged about how it is positioned for 2018 and beyond. Furthermore, as I described above, the lower corporate tax rate is more than just a one-time benefit to the bank.
Only A One-time Benefit?
The Wall Street Journal recently reported that the large U.S. banks made $2.5 billion from the tax reform bill in the first quarter of 2018. Bank of America's tax rate was 9 percentage points lower due to the new bill, which brought the quarterly effective tax rate to 18% (it would have been 20% if other quarterly items were backed out). This is real savings. Yes, the uptick in earnings for Q1 2018 looks good on paper, but there is more to the story. Consider this, Bank of America had an effective tax rate for 2017 that was double what was reported for the most recent quarter.

Source: 2017 10-K
This change in rate translates into billions of dollars that will simply drop to the bank's bottom line. To me, this is more than just a "one-time" benefit.
Let's also consider what management had to say about the tax reform bill:
Growth in earnings was driven by not only tax reform, but also operating leverage and continued strong asset quality, which is easily seen in our $8.4 billion pre-tax income, which was up 15% year-over-year.

– Paul Donofrio, CFO, Q1 2018 Conference Call
Moreover, pundits would have you believe that the business-friendly tax change is the only thing going for Bank of America, but I, on the other hand, would say that there is a lot going right for the bank at this point in time. Mr. Moynihan taking on growth in a more conservative way, while also trying to focus on how best to position the bank for the future, sounds like a reasonable approach to me, especially for a company that was viewed as "can't-do-anything-right" bank just a few short years ago.
Therefore, in my opinion, it is key to not lose sight of the fact that this bank has come a long way in a short period of time, but also that Bank of America's management team has it properly positioned to benefit from lower tax taxes, rising rates, deregulation, digitalization, and an overall improving operating environment.
Valuation
Bank of America's current valuation also helps the bull case for this bank.
Price
Book Value
Tangible Book Value
Citigroup
$70.28
$71.67
$61.02
Valuation
0.98
1.15
JPMorgan
$111.72
$67.59
$54.05
Valuation
1.65
2.07
Wells Fargo
$51.54
$37.33
$31.33
Valuation
1.38
1.65
BAC
$30.18
$23.74
$16.84
Valuation
1.27
1.79
Averages
1.32
1.66
Averages (w/o Citi)
1.43
1.83
Source: Table created by W.G. Investment Research; data from Citigroup's (NYSE:C) Q1 2018 Earnings Slides, JPMorgan's (NYSE:JPM) Q1 2018 Earnings Slides, Wells Fargo's (NYSE:WFC) Q1 2018 Earnings Press Release, and Bank of America's Q1 2018 Earnings Slides.
Citigroup is (and has been) trading at a major discount to the other banks, so the average P/TBv without factoring in this bank is 1.83. Bank of America is definitely not as attractively valued as it was over the past few years, but I still think that the risk is to the upside. What's the right valuation? In my opinion, it's closer to 2x P/TBv, but you could easily make the argument that even that may turn out to be too low.
Bottom Line
The tax reform bill will have a lasting impact on Bank of America's earnings potential, and I do not believe that it has been factored into the stock yet. It is hard not to be encouraged about the bank's improving backdrop, as it is now operating in business-friendly environment (deregulation and lower tax rates) and as it enters into what appears to be a rising rate environment. Plus, let's not forget that the bank will have an opportunity to return a significant amount of capital to shareholders in the years ahead.
At the end of the day, Bank of America has several long-term catalysts in place that should help propel the stock higher in 2018 and beyond. As such, investors with a time horizon longer than three-to-five years should consider the pullbacks as buying opportunities.
Disclaimer: This article is not a recommendation to buy or sell any stock mentioned. These are only my personal opinions. Every investor must do his/her own due diligence before making any investment decision.
If you found this article to be informative and would like to hear more about this company, or any other company that I analyze, please consider hitting the "Follow" button above.
Disclosure: I am/we are long BAC, C.
I wrote this article myself, and it expresses my own opinions. I am not receiving compensation for it (other than from Seeking Alpha). I have no business relationship with any company whose stock is mentioned in this article.
Related Posts: